Herbal Sanitary Napkins (Mugwort) Super Premium First Time in INDIA
Our Technology partner holds Global Patent for Herbal Sanitary Napkins. The herb, Artemisia Vulgaris, also called Mugwort and Nagadamani in Sanskrit, is beneficial in diseases related to menstruation, digestion and parasitic infestations. Topical application of leaves acts as antiseptic, antibacterial and antimicrobial. Flowers and leaves of Mugwort are also effective in muscular cramps, asthma, painful periods and uterine disorders.
The Herb is embedded in a cotton chip and placed just below the top layer. Continuous use of these sanitary napkins for over six months during periods have proven to benefit significantly in reducing infections, eliminating a variety of discomfort usually associated with menstruation.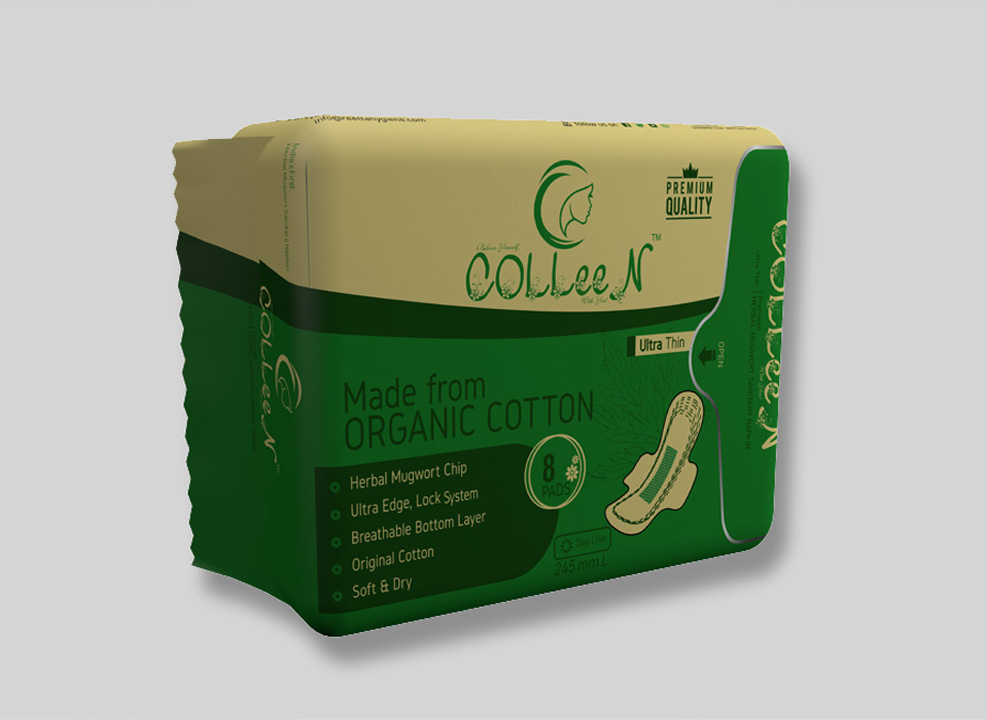 BENEFITS AND ADVANTAGES
COLLEEN SUPER PREMIUM ORGANIC HERB (Mugwort )SANITARY NAPKINS
100% plastic free Organic Cotton

No Artificial colors Original colors of cotton

The Herb is embedded in a cotton chip called Mugwort

ultra-edge lock EXTRA ABSORBENCY

SUPER BREATHABLE LAYER WHICH ALLOWS FREE-FLOW OF AIR

Preventing itching & Infections

No chemicals, perfumes, bleaches, and toxin

EACH NAPKIN IS MACHINE PACKED AND SEALED ONCE IT IS FIRST FORMED ON THE PRODUCTION LINE SO THAT IT WILL NOT COME INTO CONTACT WITH HUMAN HANDS, THUS PREVENTING SECOND CONTAMINATION AND ENSURING SAFETY AND CLEANLINESS.

THE PADDING OF EACH NAPKIN IS MADE FROM WATER ABSORBING PARTICLES, FULLY WRAPPED.

THE EXTERNAL PACKING IS MADE FROM ALUMINIUM FOIL NORMALLY USED FOR PRODUCT PACKAGING. IT HAS AN EASY TO OPEN SEAL STRIPE WHICH CAN BE RE USED AND HAS BETTER ANTI-MOIST,  ANTI-BACTERIAL AND ANTI-FUNGAL FUNCTIONS